We all want peace, prosperity and happiness, but are we looking in all the wrong places?
I have a good friend who lives near the ocean. She and her husband invited several couples to a party on their boat. About ten minutes before everyone was to meet on the boat, my friend spoke with one of her guests who confirmed that she would be there and would be bringing some shrimp for the party.
Instead, as my friend and her husband were on the boat waiting, this woman and her husband passed by my friend's boat and boarded a neighboring boat on which a more socially elite party was being hosted. The couple even had the audacity to wave at my friend and her husband as if it was no big deal that they totally blew off their party to attend one with more glamour and social status.
Of course, my friend's feelings were hurt, but she also learned who her true friends were. She got an object lesson on what it means to be "choked with cares and riches and pleasures of this life." (Luke 8:14)
How many of us pass by the peace, happiness, true friendship and love to be found in the path that Christ offers?
How many of us follow the enticing glamour and glitz of the world?
How do you think it makes God feel when we do?
During the last days of His mortal ministry, Jesus said,
"These things I have spoken unto you, that in me ye might have peace. In the world ye shall have tribulation: but be of good cheer; I have overcome the world." (John 16:33)
This verse raises several questions:
Can we really have peace in a world of tribulation?
Can we truly be of good cheer — be happy — in such a world?
How did Jesus overcome the world?
Why does Jesus overcoming the world make us have peace and good cheer?
Why is it important for us to overcome the world, and how can we do it?
The answers to the first two questions are "yes" and "yes." Peace and happiness are possible in a troubled world, but the key to achieving them is locked up in the fact that Jesus overcame the world and in and through Him, we can also.
Let's back up for a moment and think about life without Jesus. What if Jesus had never come to earth, had never taught precious truths that lead to peace and happiness? What if He had not died for our sins on Calvary and had not resurrected on that first Easter morning?
Ephesians 2:12 says that without Christ, we are aliens and strangers, "having no hope and without God in the world." If Christ had not come, we would have no hope of returning to God's presence. There would be no trail blazed, no pathway marked, no doors opened. The grave would be the end. Chaos, anxiety, and fear would pervade the world even more than it already does. We simply would have no hope without Jesus Christ.
Unfortunately, many in this world do not accept Him or do not know Him, and thus live lives as if Jesus had never come — in hopelessness, despair and fear of what lies beyond the portal of death. Many are confused about how to find true happiness and peace in this life.
What is Overcoming the World?
When Jesus says He overcame the world, He means He overcame sin and death. He did this in a very real and personal way "for we have not an high priest which cannot be touched with the feelings of our infirmities, but was in all points tempted like as we are, yet without sin." (Heb. 4: 15) Who better to show us the way to overcome sin and the lures of the world than someone who has encountered it all and overcome it all?
"Christ has overcome the world — our world — and His gift to us is peace now and exaltation in the world to come. Our fundamental requirement is to have faith in Him and follow Him — always. When He bids us to walk in His way and by His light, it is because He has walked this way before us, and He has made it safe for our own travel here. He knows where the sharp stones and stumbling blocks lie hidden and where thorns and thistles are the most severe. He knows where the path is perilous, and He knows which way to go when the road forks and nightfall comes." (Jeffrey R. Holland, "He Hath Filled the Hungry with Good Things," Ensign, Nov. 1997, 65-66)
What peace and joy are to be found in having a perfect guide for our mortal sojourn! Through Christ we can walk in a perfect brightness of hope along a lighted path instead of stumbling and faltering through mists of darkness to a destructive end.
Why Should We Overcome the World? And How Do We?
If we walk past Jesus to a more glitzy party, we are refusing the well-lit path that Jesus offers us. Those opting for worldly attractions over the stability of Jesus Christ, may even get by for a time believing that nothing is amiss. They may even appear to be happy – or at least experiencing pleasure. But in reality it is as if they are feasting on a junk food banquet of calorie-empty sugar and chocolate. Eventually the sugar rush ends, depression occurs, and after prolonged exposure malnutrition and death result. Only Christ offers the truly nourishing and energy-sustaining banquet of the Bread of Life and Living Waters.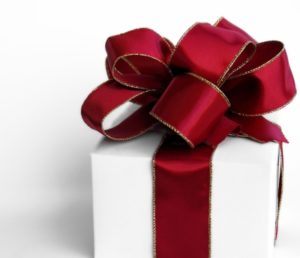 I find it ironic that Satan cons so many people into believing that the dark, horrific path is the path to peace and happiness. He sells so many a package of misery by wrapping it in the brightly colored paper and bows of self-gratification, supposed "freedom," power and popularity.
He cons them into believing that the path to captivity and death is the path to freedom and happiness, when it is really the direct opposite. He's like the sinister arch-criminal who switches the road signs to trick people into driving down a dead end road that leads off a steep cliff.
In the parable of the sower, Jesus describes this as the seeds that are "choked with cares and riches and pleasures of this life." (Luke 8:14) And what is the ultimate end of those thorn-choked seeds? They die! Those who are conned into attending Satan's worldly party die a spiritual death… something much more devastating than simple mortal death. "For what is a man or woman profited, if s/he shall gain the whole world, and lose his/her own soul?" (Matthew 16:28)
Jesus doesn't offer a glamorous party with worldly status, popularity and praise of men. He offers a centered life, an inner happiness that blossoms even in the darkest tribulation, and peace that comforts amidst turmoil.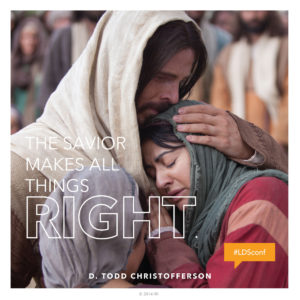 One might ask, what good is popularity when your heart is breaking? What good is praise of men and wealth when someone you love has died? The things that really matter in life and in eternity can only be found on Christ's path… "Teach, me thy way, O Lord, and lead me in a plain path." (Psalms 27:11).
The fundamental tool for overcoming the world is to have faith enough in Jesus Christ to follow Him and to trust that His path, although rather plain looking, is truly the path to happiness and peace. "For whatsoever is born of God overcometh the world: and this is the victory that overcometh the world, even our faith." (1 John. 5: 4)
I testify to you that Jesus lives and that He loves you. He has so much peace and happiness in store for you if you can muster the courage to walk away from the worldly path and take the leap of faith to follow Him and let Him light your way. He has given you your freedom of choice, your talents, and your abilities to succeed. No one is predestined to fail. He marked the path. He set the example. Follow Him to safety, happiness and peace.